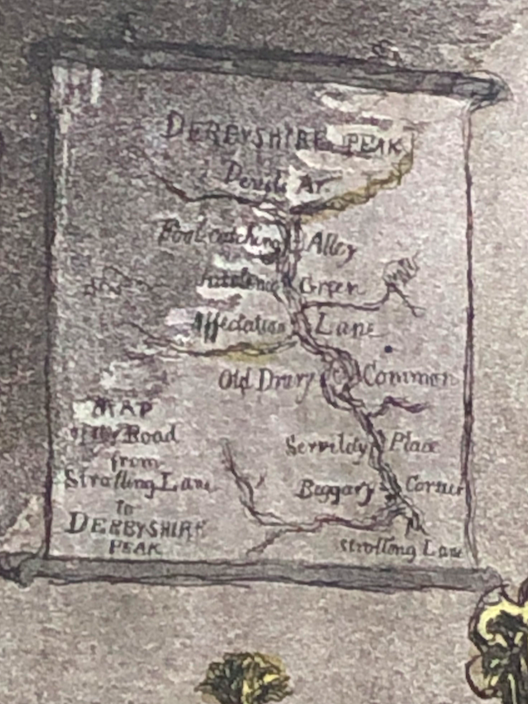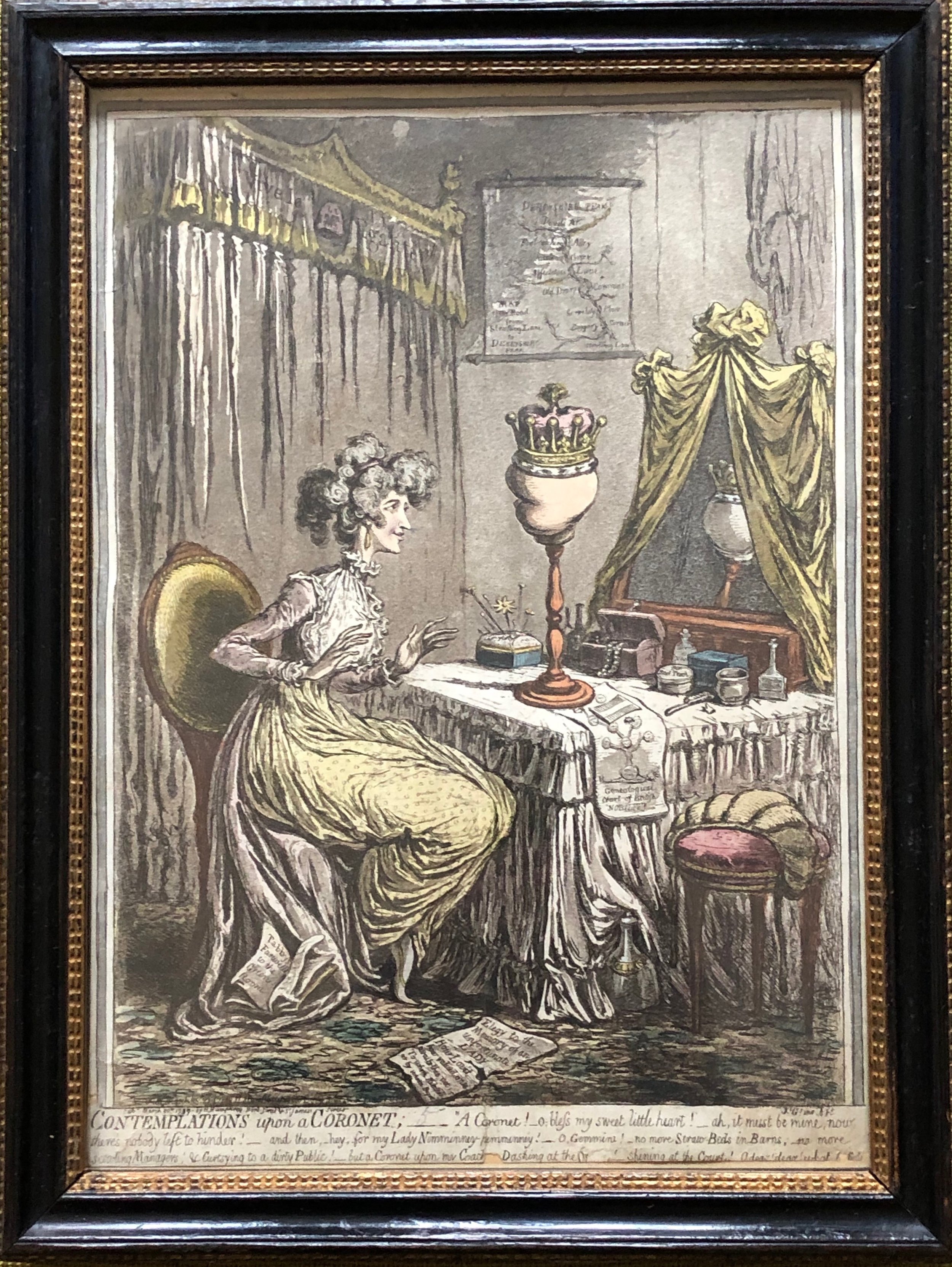 CONTEMPLATIONS UPON A CORONET - BY JAMES GILLRAY, PUBLISHED BY HANNAH HUMPHREY 1797.
Late 18th century hand-coloured etching and aquatint titled 'Contemplations upon a Coronet', by James Gillray, published by Hannah Humphrey in 1797.
Depicting the actress Elizabeth Farren sat at the dressing table of her bedroom, reflecting on her likely fortunate future after discovering that Lord Derby's wife was now dead. Miss Farren and the Earl of Derby had been engaged in a platonic affair since 1781 so it was long assumed (which turned out correct), that as soon as his wife died the actress would be made the next Countess of Derby.
The objects surrounding the actress and the text below the print provide a commentary on her past and present situation. On the wall is a "Map of the Road from Strolling Lane to Derbyshire Peak," including stops along the way as "Beggary Corner" and "Servility Place" before arriving at "Fool-Catching Alley" and "Devil's Ar. At her feet is a fragment from Pope's "Elegy to the Memory of an Unfortunate Lady" here referring to the recent death of the first Countess. On the dressing table drapes a "Genealogical Chart of British Nobility." And the object of Miss Farren's longing gaze is an Earl's coronet upon a block which resembles Derby's well-known features.
The caption reads: "A coronet! o, blefs my sweet little heart! ah, it must be mine, now there's nobody left to hinder! and then, hey, for my Lady Nimminney-pimmenney! o, Gemini! no more Straw-Beds in Barns. no more scowling Managers! & curtsying to a dirty Public!_but a Coronet upon my Coach ; Dashing at the Opera! shining at the Court! O dear dear! What I shall come to!"
Etching and aquatint.
Higher resolution images on request. Worldwide shipping available.
Framed: 16 in x 12 in / 41 cm x 31 cm Sheet: 14 in x 10 in / 25.5 cm x 25.5 cm
SOLD