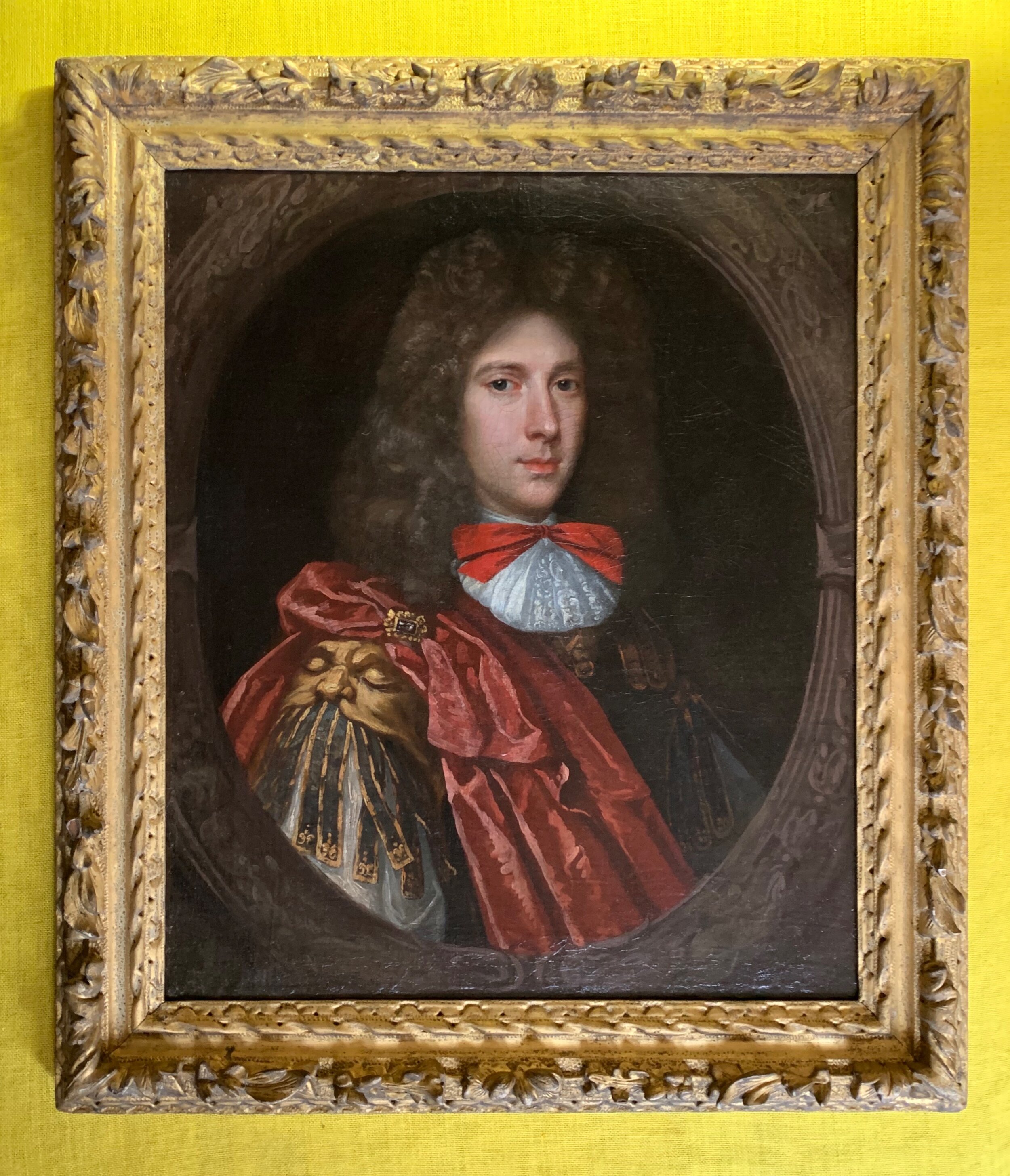 17TH CENTURY PORTRAIT OF A YOUNG GENTLEMAN IN ROMAN COSTUME - ATTRIBUTED TO MARY BEALE.
Fine and rare portrait of a handsome aristocratic gentleman circa 1670 attributed to Mary Beale (or an artist in her circle) The young fresh faced sitter wears a theatrical version of antique Roman military dress. Some versions of this dress in portraiture feature rigid moulded cuirass (lorica) and leather strips (pteruges) at the top of the arms. This fine example is less formal, totally charming and likely based on theatrical/masquerade costumes and made of shimmering silk.
This costume is highly likely to be a studio confection by the artist, who may have been inspired to add the mask in response to something he has seen at the theatre. The splendid gold 'mask' detail echoes the three-dimensional decoration (often ferocious animals or mythological figures) on the original metal Roman lorica. This portrait is a significant discovery, highly decorative and displayed in a fine later carved and gilded 'Lely style' frame it is ready to hang and enjoy.
Mary Beale ( 1633-1699) The daughter of a Suffolk clergyman, Mary married Charles Beale, an artist's colour-man, in 1652. A painter working professionally from the mid-1650s, Mary Beale produced numerous portraits, particularly of her family and friends, who included a number of prominent churchmen. She was a friend of Sir Peter Lely. Many details of her busy working life are recorded in the notebooks kept by her husband, Charles Beale, who acted as her studio assistant.
This rare 17th century portrait of a handsome sitter has considerable charm and is ready to hang in a fine period hand carved and gilded 'bunched leaf' frame which retains its original gilding.
Worldwide shipping available. Internal Ref: 00057
Canvas: 25.5" x 31" , 64cm x 79cm. Frame: 33" x "38 , 84cm x 97cm.
Price: £11.250