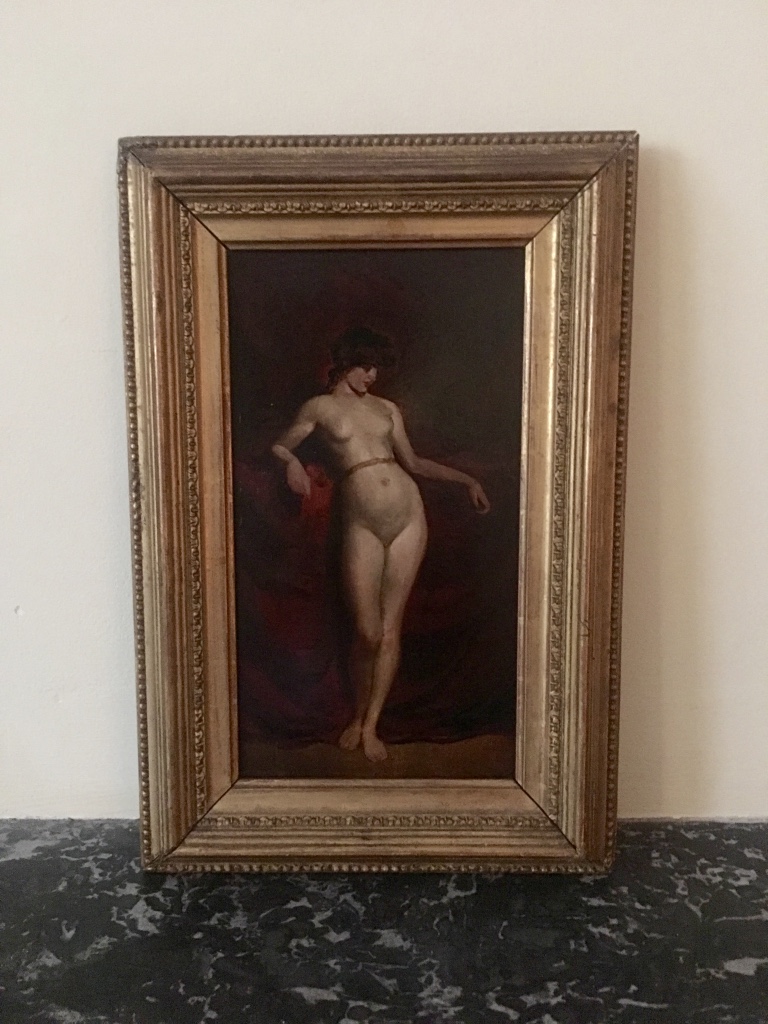 SOLD
A STUDY FOR ANDROMEDA BY WILLIAM ETTY R.A.
A diminutive and beguiling oil on board 'Study for Andromeda' By William Etty R.A. 19th century oil on canvas in its original moulded gilt frame, with exhibitions notes verso.

WILLIAM ETTY (1787 –1849) was an English artist best known for his history paintings containing nude figures. He was the first significant British painter of nudes and still lifes. Born in York, he left school at the age of 12 to become an apprentice printer in Hull. He completed his apprenticeship seven years later and moved to London, where in 1807 he joined the Royal Academy Schools. There he studied under Thomas Lawrence and trained by copying works by other artists. Etty earned respect at the Royal Academy of Arts for his ability to paint realistic flesh tones, but had little commercial or critical success in his early years in London.

Etty's Cleopatra's Arrival in Cilicia, painted in 1821, featured numerous nudes and was exhibited to great acclaim. Its success prompted several further depictions of historical scenes with nudes. All but one of the works he exhibited at the Royal Academy in the 1820s contained at least one nude figure, and he acquired a reputation for indecency. Despite this, he was commercially successful and critically acclaimed, and in 1828 was elected a Royal Academician, at the time the highest honour available to an artist.

Although he was one of the most respected artists in the country he continued to study at life classes throughout his life, a practice considered inappropriate by his fellow artists. In the 1830s Etty began to branch out into the more lucrative but less respected field of portraiture, and later became the first English painter to paint significant still lifes. He continued to paint both male and female nudes, which caused severe criticism and condemnation from some elements of the press.

Board: 10.5 inches x 5 inches / 27cm x 13cm.
Framed: 14 inches x 9.5 inches / 36cm x 24cm.

Provenance: European private collection
Higher resolution images on request.
Worldwide shipping available.